If I didn't know any better, it would seem that that violence and horror had replaced the archetypal journey of the smoking, sex, and quiet existential crisis of a French protagonist. Well, the cigarettes and anecdotal hookups are still reposed somewhere in the character quirks, but in the past few years, there has been YA cannibalism, a pulpy spaghetti western that speaks more Lenzi than Leone, and a rape-and-revenge that barely scrapes by the border of indulgently deserved fates (but damn it if I'm not going as Matilda Lutz's character this Halloween ⁠— sorry, but maybe next time, Hands Across America!).
Of course, not all types of horror are stenciled as physical splashes of guts and shotgun galore. It may bubble under the pressure of collegiate admission, where acceptance rates are in the single-digit percentages. Or sometimes it waltzes in the same tempo as high-risk optimism of a scammer, or of a mayor desperate to save his town because, as one wise American state once said, you have to live free or die hard. This year's Boston French Film Festival (now in its 23rd year), for which the films'll be screened at the Museum of Fine Arts, will scale the human emotion in all ranges — in fear, in love, in lust — and its surrounding consequences. If you're not into all those secondary scares, at least there's the palpable omen of a black hole in High Life, self-destructing paranoia in Climax, and the intangible tale of time in Last Year at Marienbad. Also, did you know that theoretically, if the black hole gets bigger as you're heading towards one and haven't died yet, it probably means the gravitational pull is weakening and there's a less chance you'll be be spaghettified? Fun!
There'll be twenty films showcased this year, three of which are directorial feature debuts by Louis Garrel (A Faithful Man), Gilles Lellouche (Sink or Swim), and Camille Vidal-Naquet (Wild). The former two have had longstanding acting careers, while the last one was teaching film studies and learning the ways of male prostitution as research for the backdrop of the main character's setting. In addition, I would be remiss to not illustrate the actors who are double-dutching in a couple of the films (cue the history teacher's "just to warn you, I can't draw" line). It rings the impression of a serious duality in esteemed actors, where you can walk into a showing and find the male lead arguing about the merits of a 21-speed bicycle and then walk into another with the same male lead is playing a hardboiled detective with a cigar dangling between his snarled lips. Here, you're given Adèle Haenel, Lady of Justice, to fight against 18th century royal absolutism bullshit as well as against modern-day police crookedness in the same auditorium.
To be truthful, there are a lot of films to choose from, and they all have something unique to offer. Camaraderie? Sink or Swim. Female camaraderie? Invisibles. Babies? In Safe Hands. Children? Amanda or An Invisible Love, depending if you need the child to reach puberty. Smoking? You should know the answer.
In all seriousness, some of these films will cross over the Atlantic in waves of critical acclaim, catching up with the ones that have already done so. You can check out MFA's calendar listings of the films, which starts with a free outdoor screening of The Trouble With You at the museum's Huntington Avenue entrance on 7/11 at 7p, but below is a short, quick guide to the twenty movies if you're not sure where to start. Have fun and au revoir, Shoshanna!
Amanda
dir. Mikhaël Hers
108 min
Synopsis: In the aftermath of a terrorist attack, casual and carefree David (Vincent Lacoste) suddenly becomes the primary caretaker of his deceased sister's 9-year-old daughter, Amanda (Isaure Multrier).
Fun fact: Though the film isn't explicitly about the November 2015 attacks in Paris, the location set is at the same districts where the incident took place.
Showtimes: 7/12 @5:30p, 7/20 @11:30a

An Impossible Love (Un Amour Impossible)
dir. Catherine Corsini
135 min
Synopsis: Rachel (Virginie Efira) meets an army translator (Niels Schneider) in 1950s central France and later carries his child. The father disappears after giving some fuckboy remarks about not being able to provide, and Elle learns to cope with the many different loves that transcend as she raises the child alone.
Fun fact: Chantal, the daughter, is played by Jehnny Beth, who fronts postpunk band Savages and has recently created the film score for the Chelsea Manning documentary that'll be available on SHOWTIME this Thursday.
Showtimes: 7/14 @1p, 7/27 @4p

Climax
dir. Gaspar Noé
97 min
Synopsis: Part whodunspikedthesangria and part dancing horror, Climax follows a troupe who experiences a bad LSD trip at a warehouse.
Fun fact: Climax was filmed in eighteen takes over the course of fifteen days.
Showtimes: 7/12 @8p
Coincoin and the Extra-Humans (Coincoin et les Z'inhumains)
dir. Bruno Dumont
208 min
Synopsis: Following 2014's Li'l Quinquin, Bruce Dumont follows the now-nicknamed Coincoin and his antics involving a mysterious alien liquid that's found in the middle of town, which may have do something with the townspeople's strange behavior.
Fun fact: Clocked in at just under 3.5 hours, Coincoin is the longest program of the festival. Don't be fooled; the movie, which is marketed as a TV series, is divided into four different "episodes".
Showtimes: 7/26 @7p

The Competition (Le Concours)
dir. Claire Simon
121 min
Synopsis: La Fémis is one of the world's most prestigious film schools with famous alumni to boot (Alain Resnais, Claire Denis — their works are featured in this festival's lineup!). Director Claire Simon, an alum, provides a fleeting window into the grueling admission process.
Fun fact: Just for funsies, the admission rate for international students is 8%.
Showtimes: 7/12 @3p, 7/13 @1:30p

A Faithful Man (L'homme fidéle)
dir. Louis Garrel
75 min
Synopsis: Abel (Louis Garrel) is caught in romantic flames between his two friends. Tune in to find out what it means to be a faithful man.
Fun fact: A Faithful Man will have a limited theatrical release on 7/19 in NY, then followed by LA on 7/26.
Showtimes: 7/21 @7p, 7/26 @5p

The Freshmen (Premiére année)
dir. Thomas Lilti
92 min
Synopsis: Benjamin (William Lebghil) begins his first year of medical school and meets Antoine (Vincent Lacoste), who's failed twice. Naturally, tension boils in their relationship as their class ranking and the possibility of failing (again, for Antoine) gets in the way.
Fun fact: The genre of medical field drama is not unknown to director Thomas Lilti, who currently is a licensed physician. In addition, Vincent Lacoste played intern Benjamin in Lilti's 2014 directional debut Hippocrates and now plays a character opposing a student named Benjamin. All healthcare provider Benjamins in France rise!
Showtimes: 7/18 @3p, 7/20 @2p
High Life
dir. Claire Denis
113 min
Synopsis: A group of convicts are sent up in space towards a black hole and undergoes experiments led by Dr. Dibs (Juliette Binoche).
Fun fact: Philip Seymour Hoffman was originally imagined to play the role of Monte (later to be taken by Robert Pattinson).
Showtimes: 7/19 @8p
I Feel Good
dir. Benoît Delépine and Gustave Kervern
103 min
Synopsis: Jean Dujardin plays an opportunist who jumps in the chance to open a low-cost procedural cosmetic clinic in Bulgaria. He enlists his sister to help, who holds a grudge against him after he drained their parents' money in a previous scam and disappeared for a few years.
Fun fact: I Feel Good marks as the eighth collaboration between directors Delépine and Kervern (first one being 2004's Aaltra and last one being 2016's Saint-Amour).
Showtimes: 7/28 @7p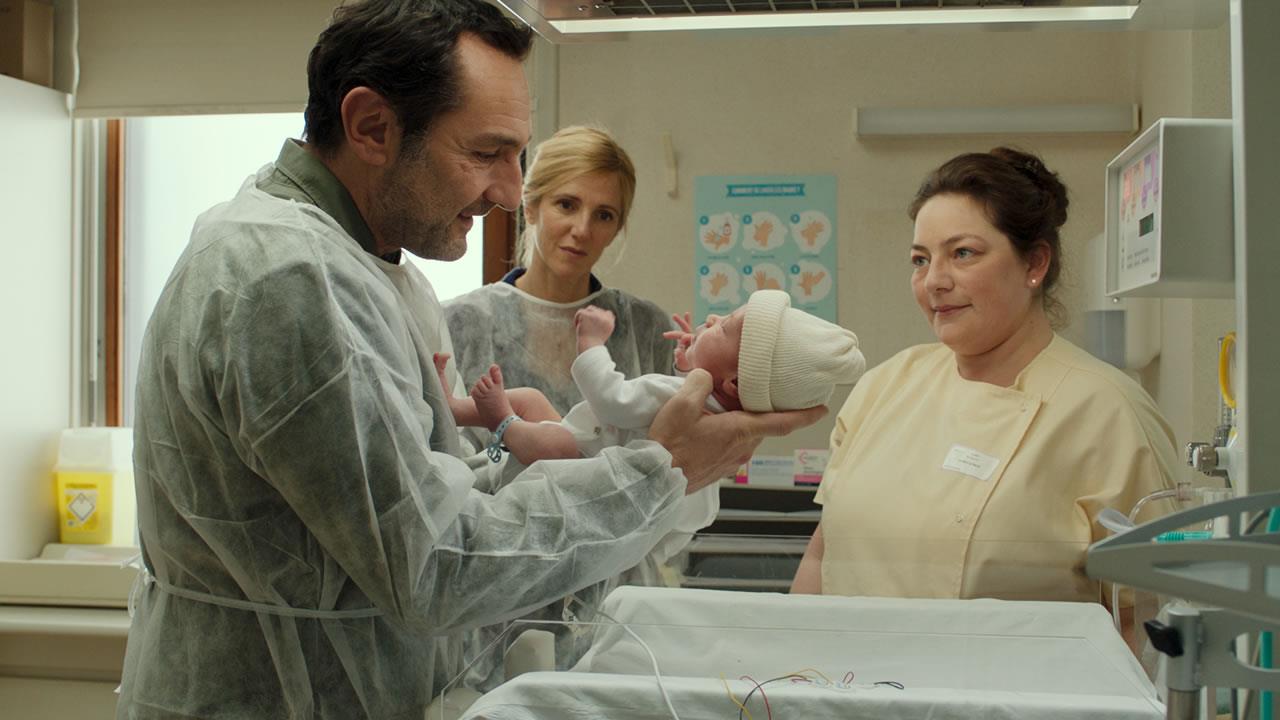 In Safe Hands (Pupille)
dir. Jeanne Herry
110 min
Synopsis: An abandoned baby, temporarily named Theo, undergoes the difficult stages of France's adoption process.
Fun fact: There's a cameo of Miou-Miou, a famous French actress with over seventy films under her belt who is also the mother of the director.
Showtimes: 7/20 @4p, 7/27 @1:30p
Invisibles (Les invisibles)
dir. Louis-Julien Petit
102 min
Synopsis: A women's shelter is at the brink of closure due to the low rate of the participants "reintegrating" back into society —  unless the women have a say about it.
Fun fact: After seeing the movie at a festival in August, the mayor of Paris was moved and opened a women's shelter in response.
Showtimes: 7/14 @7:30p, 7/21 @4p

Last Year at Marienbad (L'Année dernière à Marienbad)
dir. Alain Resnais
94 min
Synopsis: Toying with fluidity, space, and time, the black-and-white film vaguely portrays the relationship between three nameless characters and concludes in any way your mind sees fit.
Fun fact: This is the only film that has not released within the past year. It first made headlines in 1961 for its unconventional storytelling, and then was added to the Criterion Collection in 2013. Last year, it screened in the Classics portion in the Venice International Film Festival.
Showtimes: 7/19 @9p, 7/28 @1:30p

A Man in a Hurry (Un homme pressé)
dir. Hervé Mimran
100 min
Synopsis: A former high-profile businessman (Fabrice Luchini) suffers a loss in language ability after a stroke and faces the consequences of the other parts of his life that were secondary to his career.
Fun fact: The story is based on Christian Strieff, former CEO of Peugeot.
Showtimes: 7/25 @5:30p, 7/26 @2:30p
Naked Normandy (Normandie nue)
dir. Phillippe Le Guay
105 min
Synopsis: Faced with the town's financial declines, the mayor (François Cluzet) considers the idea when passing American photographer (Toby Jones) proposes that the town poses nude for his next shoot.
Fun fact: Toby Jones's character is influenced by real-life photographer Spencer Tunick (NFSW for large-scale nudity).
Showtimes: 7/20 @7p, 7/28 @4p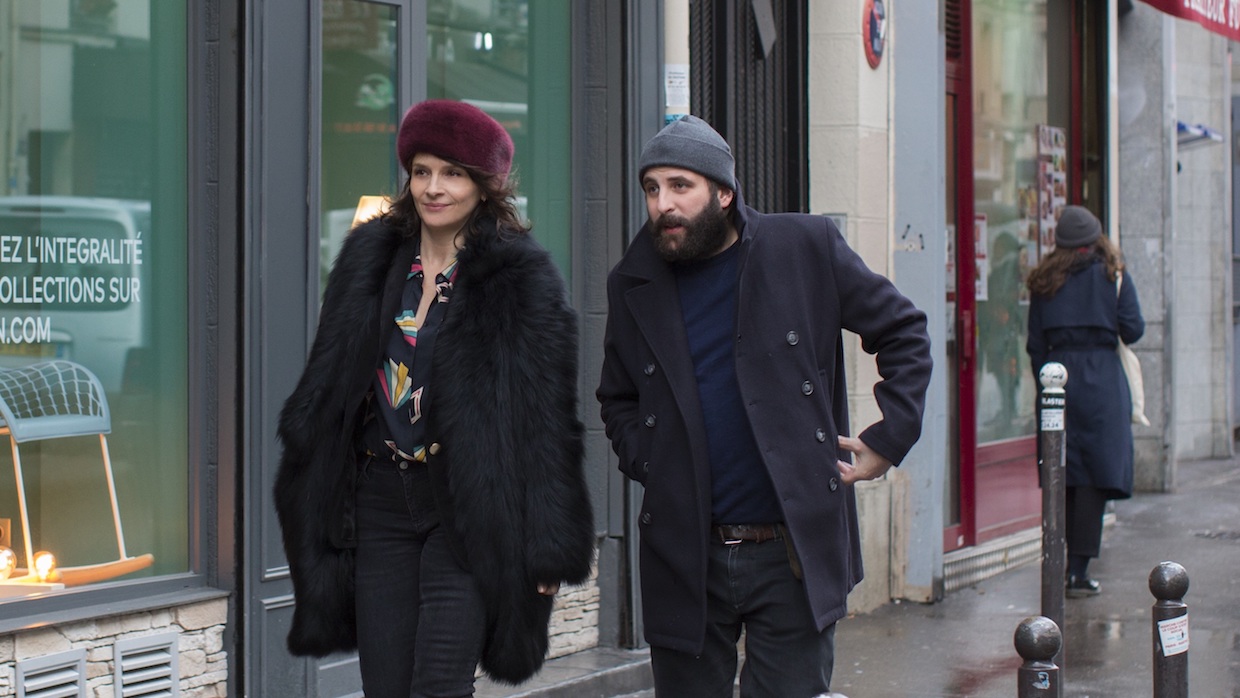 Non-Fiction (Double vies)
dir. Olivier Assayas
108 min
Synopsis: Complicated by the evolving publishing world, love affairs, and the changing ways of people around them, an editor and a writer find themselves grasping for something they can't put into words.
Fun fact: Noted for shooting films in a short period of time, director Assayas said that he didn't spend time rehearsing, which is quite a feat considering how the dialogue heavily drives the film.
Showtimes: 7/19 @5:30p, 7/25 @8p
One Nation, One King (Un peuple et son roi)
dir. Pierre Schoeller
121 min
Synopsis: One Nation is a star-casted retelling of the French Revolution in 1789, leading into the death of Louis XVI.
Fun fact: With a reported $19 million, this movie has the highest budget of all the featured films in this festival.
Showtimes: 7/14 @4p
Sink or Swim (Le grand bain)
dir. Gilles Lellouche
122 min
Synopsis: If you can dodge a wrench doggypaddle, you can dodge a ball join this all-male community swim team.
Fun fact: Lellouche drew inspiration from society's confrontation of the individual as well as a Swedish documentary about men's synchronized swimming.
Showtimes: 7/13 @4p, 7/25 @3p

Sophia Antipolis
dir. Virgil Vernier
98 min
Synopsis: Named after a "technopark" that was intended to be the Silicon Valley of southern France, Sophia Antipolis meshes the line between a modernized urban setting and surrealistic situations, which include joining a cult and losing your best friend in a fire.
Fun fact: The leader of the cult that one of the characters initiates with is a real-life Scientologist, who expressed concerns about the film reflecting poorly on the religion.
Showtimes: 7/18 @8p, 7/21 @6:30p

Wild (Sauvage)
dir. Camille Vidal-Naquet
99 min
Synopsis: Wild follows "Leo" (Félix Maritaud), a male prostitute, on the streets of Paris.
Fun fact: Director Vidal-Naquet had first written about an outcast in the world before spending three years researching men like Leo at a Parisian park once he decided to center it around an escort.
Showtimes: 7/18 @5:30p, 7/27 @7p

The Trouble With You (En liberté!)
dir. Pierre Salvadori
107 min
Synopsis: Adele Haenel plays an officer who finds out that her deceased cop husband/father of her child may have been tangled in some shady police corruption. She tries to undo the wrongs that he's done, which includes setting free a man who had been a scapegoat and in jail (Pio Marmaï ), and finds herself in a comedic path towards redemption.
Fun fact: Director Pierre Salvadori's favorite line in this movie, "It didn't happen, but it was good", was improvised.
Showtimes: 7/11 @8:30p, 7/13 @7p