Jim Jarmusch's filmography includes some excellent works of cinema. Ghost Dog: The Way of the Samurai, Coffee and Cigarettes, and Broken Flowers are just a few (and also happen to be some of my favorites to watch). The characters, stories, casting, and visuals make his movies incredibly memorable. Still, to this day, Dead Man remains my favorite of his. Not only does it feature an excellent performance from Johnny Depp, it boasts a lot more that sets itself apart from other Westerns.
Dead Man starts out with William Blake (Depp) travelling to a town called Machine, where he is promised a job. Upon arrival, he not only does not have the job promised to him, but he mixes himself up in unfortunate circumstances that make him a wanted man. On the run, Blake meets Nobody (played by Gary Farmer) who accompanies him on his journey away from bounty hunters and others looking for him. As I mentioned previously, the dialogue and the cast of characters is what makes me want to watch a Jarmusch movie. Along with Ed Wood, this is one of Depp's best performances. His transformation from a weak accountant to a violent dead man walking (pun intended) is excellent. The relationship he and Nobody has is also wonderful. It's tough to imagine the film without the two, because they are so perfect for each other. Listening to Nobody's philosophical dialogue is excellent, and there are a lot of memorable moments with them.
While these two are the stars of the show, there is no denying that others in the film are equally amazing to watch. Though most have little screen time, they use that time to shine. John Hurt and Robert Mitchum are hysterical, particulary Mitchum. His office has a giant portrait of him right behind where he sits and a stuffed bear in attack position in the corner. I laugh so hard when I see him enter and walk right over to that bear. It's also worth mentioning that the scene between Iggy Pop, Billy Bob Thorton, and Jared Harris is hysterical. Instead of three bandits looking for money, they only want the nice clothing that Blake is wearing and the kind of shampoo he uses. It's a great parody on the typical Western bandit. All of these characters and the actors who play them offer some laugh out loud moments that require you to watch the movie again and again to pick up on.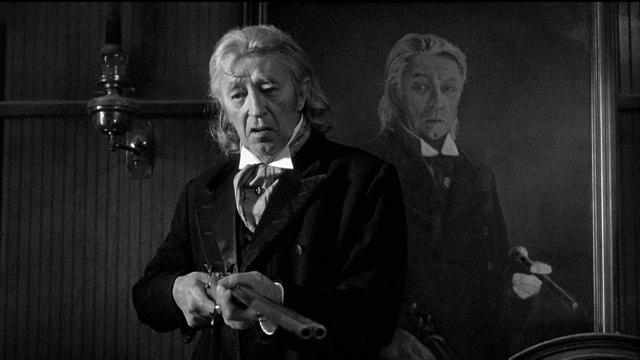 Narratively, Jarmusch isn't so much concerned about the story. It's not a very deep story, but the simplicity of its plot helps lay the foundation for other aspects of the film that make it so fantastic. Dead Man is a visual movie that is much more concerned about conveying emotion and presenting beautiful and surreal cinematography. The beginning of the movie makes it clear that it wants to capture you with its visuals. Shots of the vast landscapes, odd characters on board the train with Blake, and a moment of Western violence makes the opening memorable. Throughout the movie, there are many moments that show off how brutal the old West really was. As Blake strolls through the town for the first time (not as a typical gunslinger), he comes across vulgar and atrocious sights. Jarmusch does not hold back during these moments. It's fantastic to experience. One of the best parts of the movie is the soundtrack, composed by Neil Young. It's a mix of written music and improvisation, and it is spectacular. These heavy, sludge guitar riffs enhance every scene you hear. The scene that stands out to me is when Blake is being observed by other Native Americans near the end. The drones of Young's guitar usually sound the same during the movie, but it is intoxicating to hear. If you sit back and appreciate how gorgeous and interesting the film looks, feels, and sounds, your appreciation of it grows.
There's a lot to learn from Dead Man. The simple story that gets the job done, the characters that make each scene memorable, the remarkable camera work, and the pathos that it has are only a few things to take away. I do hope that those who do watch Dead Man love it and are also influenced by it. It's a spectacular film that is worth watching many times to get every joke, watch scenes differently, and listen to that awesome soundtrack.
Dead Man
1995
dir. Jim Jarmusch
121 min.
Screens Tuesday, 8/29 at The Brattle Theatre, 8:30 PM
Part of the ongoing series: Robert Mitchum Centennial Tribute