As we end another year of mostly not leaving the house, we can take some solace in the fact that hey, at least there were some decent games to play. While the bigger studios in town didn't drop any major releases, we were blessed with independent games from a smattering of genres, from new teams and old, expected but exciting sequels and wild surprises. As we enter another icy New England winter indoors, here's a few of my favs to check out. Support your local scene and check out some of the games made right here in Massachusetts in 2021.
Turnip Boy Commits Tax Evasion
Turnip Boy is a living turnip that finds himself in trouble after, whoops! committing some tax evasion. With Mayor Onion threatening eviction, he roams around town in this Zelda-style adventure game, cleaning up the mayor's messes, destroying documents, and stealing tools from an endearing cast of vegetable-folk. It's a tight little romp that does an impressive job of landing jokes that feel consistent with the goofy setting and doesn't need to try too hard to get a giggle out of you. Adorable character designs and an incredibly stylish presentation round out a hyper impressive debut from a young team who recently graduated from the now-defunct Becker College.
For anyone who grew up messaging their crush online after school, the Emily is Away series will flood you with the nostalgia of being young and full of hormones and having a desperate, heart-achingly powerful crush. Telling stories through a social media facsimile turns out to be an incredibly effective way to amplify their emotional payload, and it's equally beautiful and saddening to relive those days. The third game in this series moves us forward in time slightly from the AOL Instant Messenger era into the early days of Facebook, but you can also check out the first game for free.
Award winning comic artist Abby Howard's macabre black and white drawings explore the mystery of Scarlet Hollow in this episodic interactive fiction, which has 2 (of 7) episodes now released. What draws attention up-front is the art, which features hand drawn, inked, and scanned backgrounds and uniquely bizarre creatures, but what brings it together is a rich narrative system with a well-paced blend of humor, romance, and of course, horror. A final bonus, for the more easily terrified like myself: the horror elements shine through in the mood and creepy setting, rather than relying on cheap jump scares.
Retired Men's Nude Beach Volleyball League
Retired Men's Nude Beach Volleyball League came out of nowhere, the latest release from Will Brierly, best known for the lovable and bizarre game-within-a-game Soda Drinker Pro. While the initial pitch is silly, Retired Men's Nude Beach Volleyball League ends up being a surprisingly touching story about aging and forging human relationships, told as protagonist Len reminisces on his way to matches and chats with his opponents between points. Retired Men's Nude Beach Volleyball League isn't about winning or losing, it's about how you play the game. And the way you play is: nude.
By far the most mechanically dense game on this list, Factory Town is at its heart a game about designing a system of conveyor belts. There's something deeply satisfying about making tiny adjustments to your towns layout so townsfolk can move about more easily, or rejiggering conveyor belts to more efficiently route flour to your bakery, then sitting back and watching the clockwork of your town tick along. One thing that sets Factory Town apart from similar games is its insistence on reducing stress: there are no enemies and no losing conditions, so you can chill out, fiddle and optimize without worry.
Special mention: Indiepocalypse
Indiepocalypse isn't a game, but a digital zine. Every month local game creator Andrew Baillie puts out a new collection of 10 wildly varied games that embrace the DIY ethos, plus some comics, writing, and visual art. Where most game developers fret about the exponential increase in games being released, Indiepocalypse embraces the now massive number of people making games as a boon for finding new and exciting works, regardless of commercial viability. It's a great reminder that this medium is still relatively new, and there's a ton of exciting and unique work being done that simply isn't being covered by the media or reaching players through traditional publishers and platforms.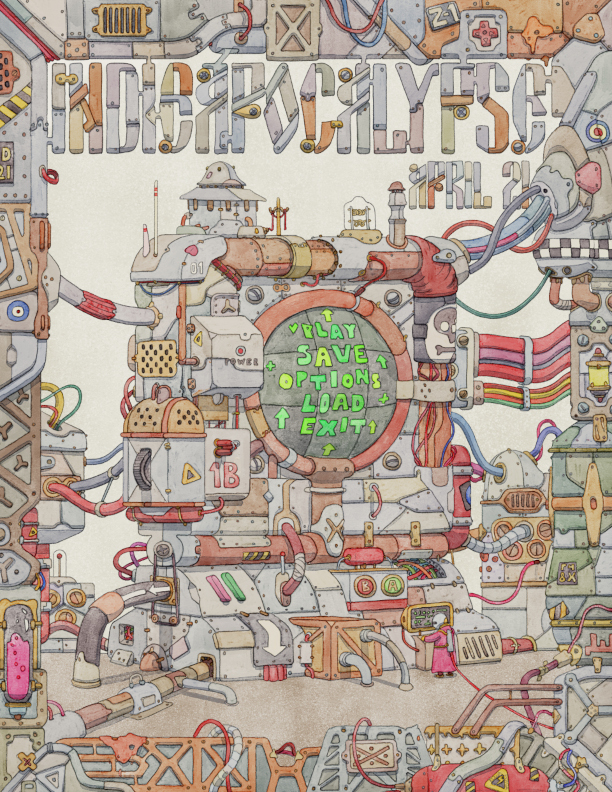 These were just a fraction of the games that came outta Boston this year; you can also follow Boston Indies on Twitter, or if you're interested in making games, come check out some of the local meetups and get a sense for what's going on in the community.