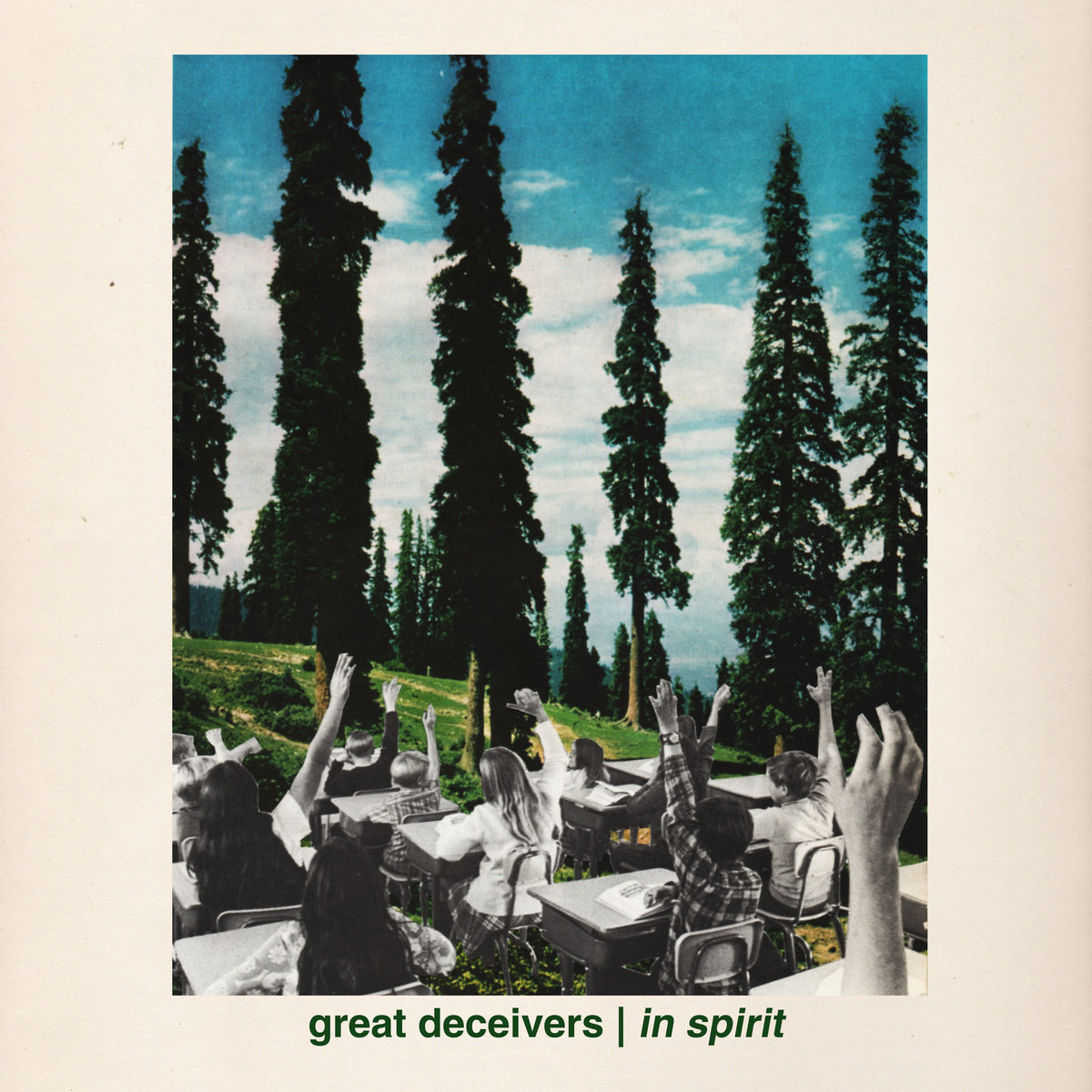 Great Deceivers' new record, In Spirit, opens with an inexplicably heavy hitter ("What Was The Question?") and doesn't let up through any of its 12 tracks. They manage to produce this sound without abusing effects like fuzz and distortion, or cranking the volume to 10. Rather, they smartly utilize chord changes, dynamic changes, stops and hits that force you to bang your head. Though reminiscent of the Exploding in Sound, well … sound (e.g. Pile and Ovlov), Great Deceivers pace themselves, treading purposefully in this record, rather than the walk-sprints of much of the music we've heard from that label.
The record's sound was initially brewed up by vocalist Max Green, but arranged by the entire band, and undoubtedly influenced by a network of Chicago-based musicians. One of these projects, Options, shares a member with Great Deceivers (Seth Engel, who played drums and sang backups on In Spirit), and it shows. I'd be surprised if Green and Engel don't often discuss songwriting, or at the very least, heavily share influences. Engel, who also engineered and mixed the record, left a considerable amount of space in the recordings, and left the guitar tones relatively untouched, implying live performance. The drums are set back and roomy, the vocals often the same, producing an intimate experience.
"What was the Question?", the album's first track, uses a lock-step progression in the verse, maintaining rhythmic synchrony through to an open instrumental and a wailing refrain: "time's not on your side". The lyrics point towards a sense of despair, of fleeting time looming heavy overhead. Another standout track, "The Leash", opens with a heartfelt vocal and guitar arrangement and eases in the drums and bass, until we're propelled into a relentless gallop through to the two-minute mark. A moment of tranquility separates us from the next build and gallop through to the end. Perhaps singing of love lost – longing for anyone or -thing, but the self-awareness to let it go – moments in this song mark the album's energetic climax.
The record's tone marks a decisive change in direction from some of the band's previous work, which rarely featured twinkly guitar lines and consistently elevated vocals. On 2017's EP, Some, the band occasionally strayed from their now 90s-derived alt. rock, into the emo or pop-punk realm. With this latest record, the band fully and consistently embraced their principal sound, and we're more than happy they did.  Catch Great Deceivers at their frequent shows in Chicago, and keep your fingers crossed for some more extensive touring in 2019!