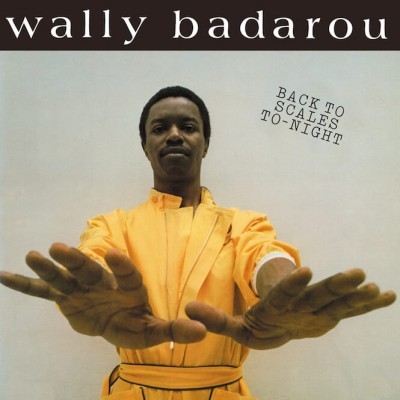 Wally Badarou has a rich musical past, most famously playing keyboard/synth as a member of the backing band for Island Records, based out of Nassau Bahamas. He is credited on dozens of classic records,  including records by Grace Jones, Tom Tom Club, Talking Heads, Lizzy Mercier Descloux, Jimmy Cliff and has even produced a Fela Kuti record.  In addition, he has several solo albums you shouldn't sleep on – check out "Back to Scales To-night" and "Echoes."
I had the pleasure of asking Wally some questions about his past:
Q: Where were you born and what was your childhood like?
Wally: Paris, France. Discovered Dahomey (now called Benin), my country of origin, at age 7. Spent 10 years over there, then back to France. Sort of a protected environment, my father being into politics. I was into aviation and space back then. A happy childhood globally.
Q: When did you start playing piano/keyboards?
Wally: I took lessons at age 16, for about a year, and self-taught from then on.
Q: Who were some of your early influences?
Wally: The electronic organ was king back then: Jimmy Smith, Santana's Gregg Rolie, Deep Purple's John Lord, Keith Emerson, etc. Then the Fender Rhodes (along with the Moog and ARP synthesizers) took over, and Herbie Hancock, Joe Zavinul, Chick Corea, George Duke and Stevie Wonder became my real mentors.
Q: When did you discover the synthesizer? Do you have an all time favorite synth?
Wally: Figments of the synthesiser potentials were already in radio-jingles by the late 60s. Instrumentals such as "Pop Corn" by Hot Butter, "Oxygen" by JM Jarre along with the advent of disco and german electro established it for good.
As curious as it may sound, I never had a favorite synth, as I never intended to do "all electronics" at first. I started with a modest Korg 800-DV, and did a lot of writing with it, simply because it allowed me to. Synthesisers didn't have presets back then, the great side of which was, I felt I could creat any sound, ony limited by my imagination.
Then within a couple years, I managed to approach the Moog Modular when working on M's "Pop Muzik", then got attached to Sequentail Circuit's Prophet V all the time I was based in Nassau, Bahamas (simply because it was around and easily programmable), and eventually ended up acquiring a New England Digital Synclavier.
But as fantastic as they all were at their time, all of them were just tools for my imagination, nothing more, for I've always been sticking to this basic principle: make the best out of whatever I had.
Q: What was your first big break into the music industry?
Wally: M's "Pop Muzik".
Q: You've played on too many classic records to list. Can you talk about some of your most memorable recording sessions? What's one of your favorite stories from that time?
Wally: Well the main thing I can now assert as memorable is, how naive I was about the sheer nature of my contributions. If some of them could be viewed as mere decorative layers, others were outright co-composing elements without which the song wouldn't have happened at all. But back in those days, I was so happy exploring and delivering, it never occured to me that I should have claimed some writing share most of the times … but I suppose this was the case for most synthesists back then.
Let's not be misunderstood: this is no resentful statement here. I just happen to see each and every session I did as something very peculiar in that, specially back in the days when presets did not abund by the thousands, any contribution we, synthesists, could bring to any given situation was improvised from the ground up, sounds, part ideas and performance, all at once, all intertwined, something that was hardly reflected in the writing/arranging credits.
Q: Can you talk about your time working for Island Records as a member of the Compass Point Allstars in Nassau?
Wally: It was all about Chris Blackwell's visionary and charisma, he made it all happen by just being there. Whenever he was around, great stuff simply materialised, and the impossible became possible. I never felt I was working for Island Records: through the diverse projects I had been involved in, it was myself I was working for, basically, and Chris knew I how to make us all feel that way. Everyone was to make one's best to live up the standard of inovative excellence he was expecting, for everyone's sake.
Q: One of my favorite records of that time is "Mambo Nassau" by Lizzy Mercier Descloux. What was the making of that record like?
Wally: Strange feeling of something planned and un-planned at the same time. Even though I had been attending the rehearsals, I only got "instrumentally" involved at overdub stage, so I can't talk about the backing tracks sessions. As usual, I improvised all of my parts, some of which I believe determined the final arrangement of some of the songs. Lizzy was very easy going and welcoming to ideas.
Q: What was your experience like producing and working with Fela Kuti?
Wally: Working with a hero, in other words, pretending to bring something to the person who, not only inspired you at the first place, but educated you in the very field you believed you understood, up until you were faced with the daunting task of doing it with him. A lesson in humility: I managed to be as transparent as possible, which I believe he appreciated, for we were to do his album after all, not mines. Thanks to the length of the songs, fully, duly and thoroughly rehearsed before studio time, we managed to start and finish the triple-album project in two days, mixing included. An education on its own right.
Q: What was it like working with Grace Jones?
Wally: Well as I said, it was working with Chris Blackwell and Alex Sadkin, that ended up be what I appreciated most. That too was an education in every respect: production, vibration, feel, self-awareness of potentials, everything.
Q: I recently picked up the reissue of your first album, "Back to Scales Tonight." Your singing voice is great! What was your decision to sing less on future solo releases?
Wally: I was so appalled by my vocal performance (and the overall production of the album), I decided I should focus on what I felt I was best at: instrumentals, while I was to give most of my song ideas to Level 42. I've made vocal progress since, so I might resume singing more often eventually, but never pretending I am a singer: the way I see it, it takes much more than having a great voice to be a real one.
Q: Can you talk about the progression from "Back to Scales Tonight" into "Echoes"? How did you develop and change your sound?
Wally:  As I just said, Chris and I felt I should focus on what I did best. "Back to Scales Tonight" was a Barclay records french production, based on the Korg 800-DV on the synthesizer side of things, while "Echoes" was almost exclusively Prophet V, with hints from my then newly acquired Synclavier system.
Q: What is your typical process for approaching a song? Do you first start with a keyboard idea?
Wally: Most of the time, yes, the same as for approaching an instrumental piece. It all starts with a very short idea, sound, rhythm, bass line, chord progression or melody bit, that I would deliberatedly keep undeveloped for months, sometime years, before I decide to finalize.
Q:What are some of your favorite drum machines?
Wally: From the Linn-Drum to the Akai MPC-60, the whole of the Linn series have long been the core of my system. Nowadays, I use various samples from various libraries, as I tend to restrict my productions to virtual machines, for ergonomic reasons.
Q: What are you working on currently?
Wally: My "Unnamed Trilogy", triple-CD worth of material, which only 6 pieces have been digitally released so far …
That plus going live from time to time (I did my first real solo live performance in Montreal and Toronto just last year). And building an African Music Academy from the ground up. And advocating for authors right at Sacem (french equivalent to Ascap). Plus other miscallaneous activities.
Q: Are there any contemporary artists or musicians you are inspired by?
Wally: None as such nowadays. Not that there aren't any worth being inspired by, but I am just too busy finishing what I've had in mind for many years now, I can't afford not to concentrate, whenever time permits.
Q: What type of advice do you give young kids interested in writing and recording their own music?
Wally: Just stick to your original idea, no matter what they say: if it's a mistake, chances are, you'll learn from it. And if successful, you'll be double proud of yourself.