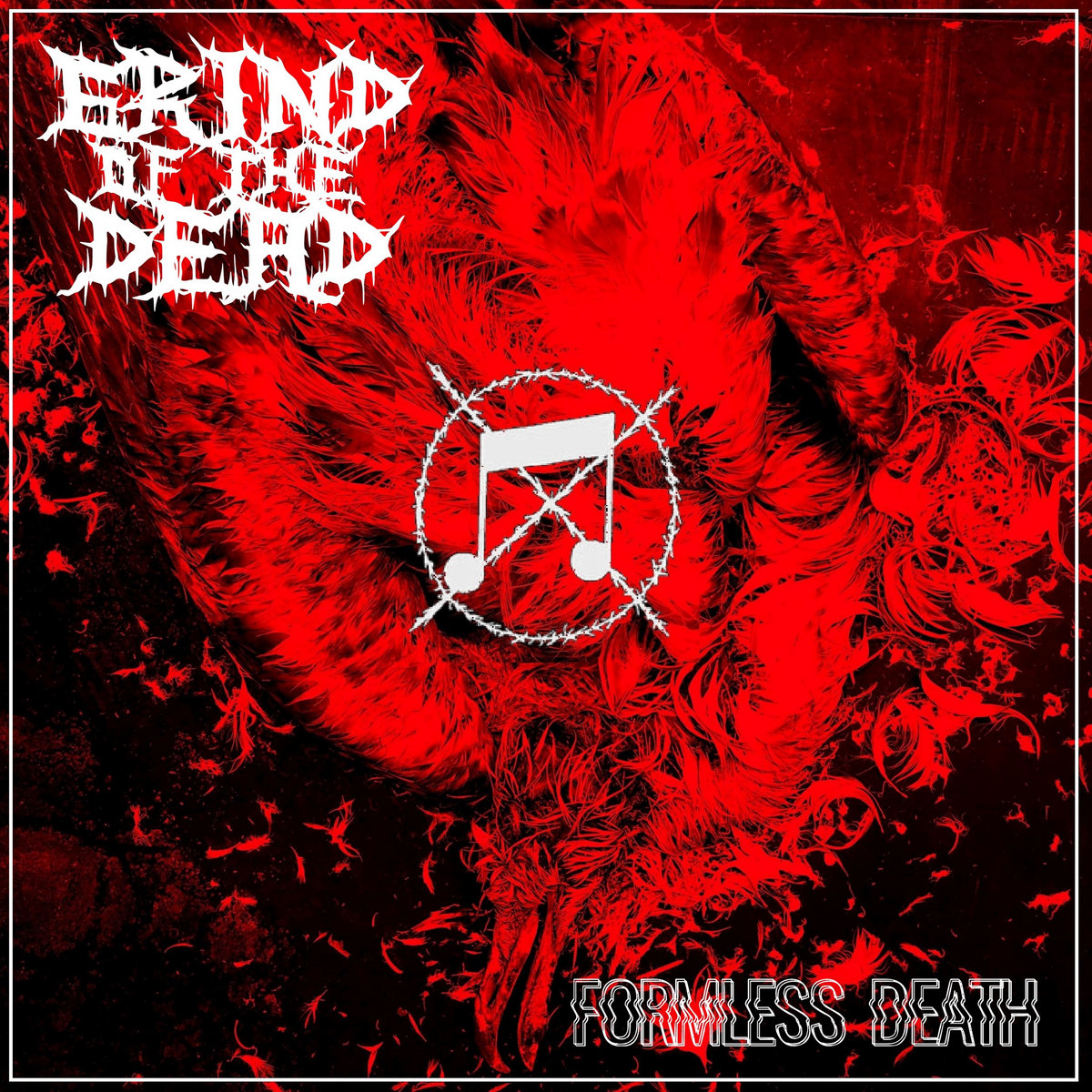 March of 2021 brought us the third full length from MA based Grind of the Dead. As with their previous releases, Alex Aro aka King Grindfuck recorded the album solo in Colorado. If you're familiar with this band, you'll enjoy the maturation of the sound. Continuing the trend of No Lives Matter, more concentrated and direct, as opposed to the spontaneous and wild nature of Pussy Jams. At a 26 minute run time, this release wastes no time proving that it's the strongest GotD record to date.
The LP opens with the title track, a blistering beginning that sets the tone for all that follows. The first word that comes to mind when considering the guitar tones on this record is sharp, like knives, like teeth. There's no nonsense in the compositions on this album and this track prepares you for the kind of riffing you can expect throughout. 
From there, we're volleyed into "Sawtooth Smile," which has getting wrecked in a pit written all over it. Drums to two-step to build up to the inevitable breakdown that segues into "Feral Jaws,", which is another one of the groovier tracks on the album. Can't wait to stomp around to this one. "Bleeding Ideas of Grandiosity" picks up the pace, and then drops you into 'Selfish Wounds," that has an insanely refreshing moment of rhythm section sans guitar before it's back to blasting, and boy does it. Right into "Soulless," the first single. A relentless sixty seconds of sweet, sweet grindy goodness. 
"Burn in Hell" sports a mid tempo, headbang afflicting riff into "Acid Tongue" ,another solid pit instigator. "Open Mouths//Endless Teeth" is over before you finish reading the name, clocking in at a whopping 10 seconds. "Fountain of Blood" gives way to "Like Rats," and I'm a sucker for a bass intro, and also features some of Alex' best vocal work. "Bottomless Feeder" features one of the few guitar solos on the album, as well as a classic breakdown that'll make you want to jump to your feet. "126040" has a killer dissonant riff to open that comes back later in the song, as well as a slowing down to segue into "Gnawing Loss." There is a wicked breakdown halfway through this one, overlayed by Alex lamenting "I will always suffer, only death can save me." I was sure this'd be my favorite track, but the album wasn't quite done. 
The closing instrumental, "Blessed Be," is my favorite track on the album. Closing out the album this way is something that started with Pussy Jamz, and functionally, I feel the nature of "Blessed Be" is very much in line with the closing of that debut . There's a beauty in this album battering you, breaking you, bleeding you for 20 minutes, and then for the last five minutes — a fifth of the run time — you get a track that feels so open and atmospheric. Time to process, to reflect on what you just heard, to take it all in. Distorted rhetoric of Alan Watts, beckoning wide open chords cascading to black metal minor key riffing and blast beats into more stompy parts, back to the more open chords.
That's a wrap on Formless Death. Anger, blood, hate, personal hells, visceral, cathartic, sharp. A steep ride to dark depths that resurfaces in the crashing waves of accepting death.  This is a massive step forward for King Grindfuck and his crew. and a must listen from the commonwealth outfit.